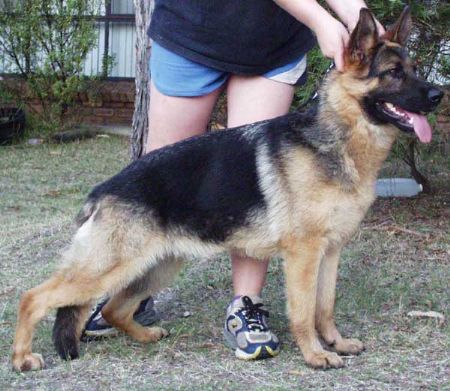 Ruby
Aust Ch: Kadama Congeniality AZ
Dam: Aust Ch: Crajendo Cutting Edge AZ BSCL1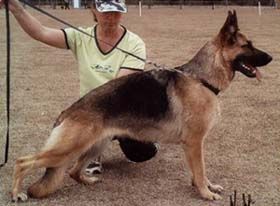 Sire: Rupos Ostreifesichen Thingsstatte (Imp Gmy) AZ
Ruby has proven herself in many ways, she entered the all breeds show ring at 14 months of age
she gained her championship tilte. She has produced youngsters with so much to offer,
not only in the showring but in herding and obedience, not to forget devoted family companions.
Three of her youngsters are being campaigned under the Karraine Prefix
in the specialty and allbreed showrings gaining championship titles
plus In show awards in both rings.
Aust Ch: Karraine Sierra Gold A Z
Karraine Storm Trooper
and Mutli Baby In Show winner Karraine Blazing Up A Storm.
Kadama Spellbound gained awards in the obedience ring owned by Mr Bruce McGuiness in TAsmania.
Kadama Sand Piper AZ owned by Irene Fitzgerald in QLD
Kadama Gosh Im Posh C.C.D.HT owned by Carolyn Blumoser Wodonga
Ruby's beautiful kids below who live with us
have acheived their titles.
Ruby has come home after residing at Karraine Kennels for awhile.
Where she is now retired.
Aust Ch: KADAMA SIERRA SUNRISE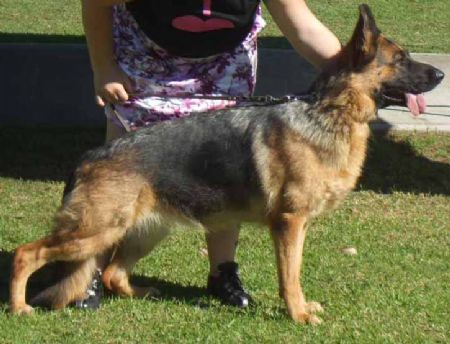 Sally
Intermediate In Group
Cessnock All Breeds Kennel Club
26th September 2010
___
BOB and Junior In Show
Ncle Merewether CC Inc
Judge: Mrs L Mathews (Vic)
___
20th November 2010
Bulahdelah Show Society Inc
Judge: Mrs J Smith (NSW)
Best of Breed
---
---
Aust CH: Kadama Scotch N Soda
Our lovely Cougar has had much success in both All Breeds and Specialty showrings
Many Class in Show wins and class in group wins from Baby to Intermediate
All Credit goes to the Karraine team for their professionalism and dedication
Cougar has gone to Rainbowbridge
Sadly Cougar passed away in April 2012
RIP beautiful boy
Miss you so very much
---
Kadama Gosh Im Posh C.C.D.HT
Congratulations Well Done!
to Cassie and her owner Carolyn Blumoser
on acheiving your C.C.D.HT titles
---
Kadama Spellbound
'Storm'
1st place Obedience assessment
Owned & trained B McGuiness
Tasmania
---
Grundlehardt Temptress
Tessa
We are delighted with this lovely young girl
from Peter & Jenney Cocks at Grundlehardt Kennels
Tessa has a lovely nature and loads of fun to work with.
Tessa won Best Baby In Group 5
Ncle Merewether CC Inc
Judge: Mr Fitzgerald (Qld)
04/06/10
________________________
NHRGSD Club Inc Show
4th September, 2010
8th place.
Judges comment was she would had been placed much higher
had she had more experience and training.
___________________________
Tessa will be residing in Tasmania for a while with Karraine Kennels
She was 3rd on the pegs under judge Mrs M Groth Tasmanian State Assesment 16/10/2010
Brilliantly handled by Sam Mathers
___________________________
2010 Royal Hobart Show
Best Puppy In Group 5
Judge: Mr Mario Knoll (Brazil)
__________________________
Due to an injury Tessa's show career has been cut short.
Hopefully sometime in the future Tess will have her youngsters taking over for her.
---
Aust Ch: Kadama Sandpiper AZ BSCL1
owned by Irene Fitgerald (Qld)